Meet America's first war dog, a stray Pit Bull/Terrier mix, named Stubby. He became Sgt. Stubby, was the most decorated war dog of World War I and the only dog to be promoted to sergeant through combat.
One day he appeared at Yale Field in New Haven, Connecticut; while a group of soldiers were training, stopping to make friends with soldiers as they drilled. One soldier, Corporal Robert Conroy, developed a fondness for the dog. He named him Stubby because of his short legs. When it became time for the outfit to ship out, Conroy hid Stubby on board the troop ship. In order to keep the dog, the private taught him to salute his commanding officers warming their hearts to him.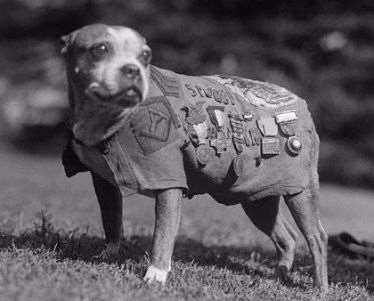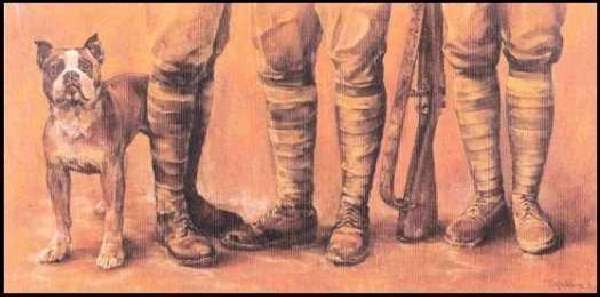 Stubby served with the 102nd Infantry, 26th (Yankee) Division in the trenches in France for 18 months and participated in four offensives and 18 battles. The loud noise of the bombs and gun fire did not bother him. He was never content to stay in the trenches but went out and found wounded soldiers.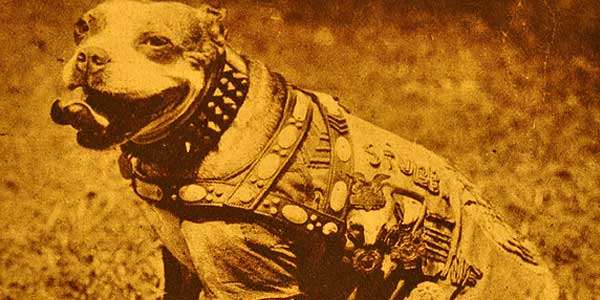 Stubby entered combat on February 5, 1918 at Chemin des Dames, north of Soissons, and was under constant fire, day and night for over a month. In April 1918, during a raid to take Schieprey, Stubby was wounded in the foreleg by the retreating Germans throwing hand grenades. He was sent to the rear for convalescence, and as he had done on the front was able to improve morale. When he recovered from his wounds, Stubby returned to the trenches.
Read more: http://www.shangralafamilyfun.com/stubbywardog.html