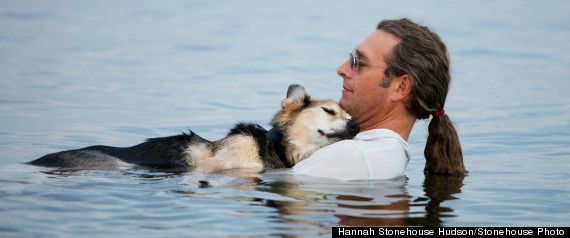 John Unger cradles his 19-year-old dog, Schoep, in the waters of Lake Superior
Unger adopted Schoep, named after the famous Wisconsin ice cream, when he was just a puppy, and the two have been together ever since. Now, at 19-years-old, Schoep has arthritis and has trouble sleeping, the Pioneer Press reports. Unger found that water is therapeutic for his pained buddy, so he takes Schoep into Lake Superior and lulls him to sleep.
Photographer Hannah Stonehouse Hudson, owner of Stonehouse Photography and a friend of Unger's, decided to capture the relationship between the man and his dog down by the water.
"This photo was from a last minute session," the Bayfield, Wis., photographer told The Huffington Post in an email. "We had been trying to get together for weeks, but it kept not happening because of my travel schedule for Stonehouse. We finally got together last Tuesday (the 31st). I had about 5 minutes to shoot and this is what I caught — a man and his dog. John loving his Schoep, and Schoep trusting John so much he falls asleep in the buoyancy of the water. This is in no way posed – I hate posed photos – they never, ever capture the true essence of anything."
From the Huffington Post