The Smithsonian's National Zoo is naming its female giant panda cub Bao Bao after receiving more than 123,000 votes online from the public to help give its new cub an identity.
Bao Bao, which means "treasure" or "precious," is only the second surviving cub born at the National Zoo since the first pandas arrived in 1972 to commemorate President Richard Nixon's historic visit to China. Pandas have remained a happy symbol of diplomacy between the two countries.
Panda mother Mei Xiang (may-SHONG) has been caring for her cub in the panda den since she was born Aug. 23. Bao Bao will have her public unveiling early in 2014. Mei Xiang's only other surviving cub, a male named Tai Shan, was born in 2005 and was returned to China in 2010 for breeding. Male panda Tian Tian (tee-YEN tee-YEN) is the father of both cubs.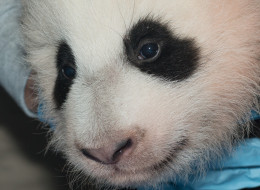 http://www.huffingtonpost.com/2013/12/01/national-zoo-panda-name_n_4368956.html