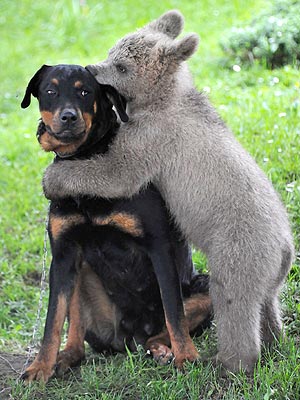 Bearing up nicely: The cub who walked into a family's garden and refused to leave
By Lee Moran
He's cute and cuddly – pictured here rolling about on a sofa, play-fighting with his adoptive father and hugging the family dog.
But come adulthood and the development of his natural instincts, it will be an entirely different matter.
It is for this reason that Medo the brown bear is at the centre of an extraordinary custody battle between the family that has taken him in and Slovenian animal experts.
The Logars are seeking permission to build an enclosure, on their land in the central Slovenian village of Podvrh, where the three-and-a-half month old will be able to live.
But the country's environment inspectors and vets have said it is too dangerous and are urging he be placed into a shelter for wild animals.
Read more: Daily Mail
Medo walked into the Logars' backyard in Slovenia and made himself at home.