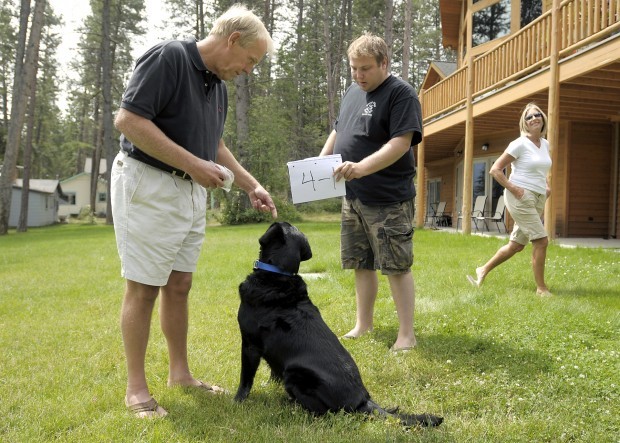 Beau, a 12-year-old black lab, has a unique talent for math.  In the picture, Beau answers a math question for Dave Madsen and  his son Matt last week at Finley Point. Beau has an aptitude for math, barking  out the answers to questions from not just the Madsens, but anyone with a reward  for his work.
By VINCE DEVLIN
Beau can do it all: Sit. Roll over. Add. Subtract. Multiply. Divide.
We swear we're not making this up. He can even do algebra.
"If 3X equals 9, what does X equal?" Dave Madsen asks Beau.
"Arf arf arf," Beau replies.
Nine minus five? "Arf arf arf arf," Beau says.
Four times two? "Arf arf arf arf arf arf arf arf," Beau answers.
It goes beyond math.
Beau knows football.
"How many points for a touchdown?" Madsen asks the dog.
Beau barks six times. And twice, for a safety. Three times for a field  goal.
"If I score a safety and a field goal, how many points do I have?" Madsen  asks.
Beau barks five times.
The obvious answer to Beau's math skills, of course, is that Madsen is  signaling his dog, either how many times to bark, or when to quit barking.
Except Madsen can move out of the dog's vision – can even leave the room  entirely – and Beau will answer most any mathematical question you yourself put  to him.
***
You always know when Beau is done answering,because his ears  shoot into an upright and locked position after the last bark.
"My Dad had a buddy in Atlanta who was determined to prove we were signaling  him somehow," says Matt Madsen of Missoula. "He took Beau out on the back deck  by himself and drilled him one-on-one for 30 minutes, and when they came back  in, all the guy said was, 'You know what? That dog's a genius.' "
Read more: Missoulian