Two four-month-old polar bear cubs walk in an open-air enclosure on their first day at the Royev Ruchey Zoo in the Siberian city of Krasnoyarsk.
The two female wild polar bear cubs were delivered to their new home after they were found in Russia's Taimyr peninsula in the Arctic Ocean in early May.
Siku, a male polar bear cub, poses in Toledo, Ohio. The zoo announced that the cub, born in December, will be called Siku, a name selected from submissions by children on the North Slope in Alaska. Siku means 'ice' in the language of the Inupiat, who rely on the Arctic ice shelf for hunting.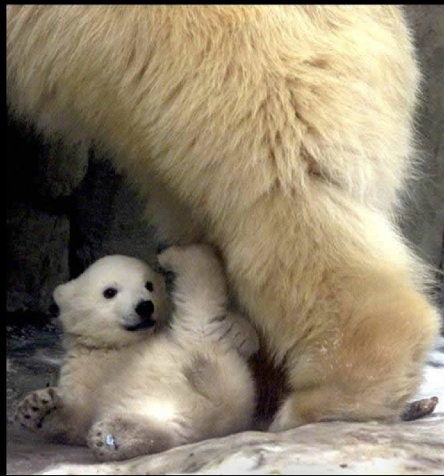 A polar bear cub clings to the side of its mum like velcro as she takes a stroll across a snow-covered tundra.
A polar bear cub and his mother "lark about" on the frozen water, skidding about, then jumping in the icy waters. Wildlife photographer Steven J Kazlowski captured the moment off the coast of the Arctic National Wildlife Refuge in Alaska.